Modifications
Scott Brooker, Canada
Modifications to the bike: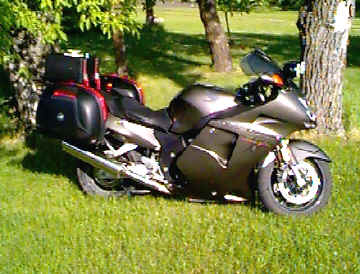 Added 5 Gallon Fuel Cell (top of Givi Rack); 2 Givi E460 Side Cases; HeliBars Handle bar risers; Hot Grips (heated hand grips); PIAA 910 Driving lights; Givi Windscreen; Scottoiler; Stage One Jet kit / K&N Filter; Corbin Saddle; Garmin GPS III+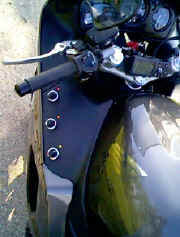 The Hot Grips / PIAA's / Fuel Cell all are controlled with this moeller switches that are connected to 6 relays under the seat to handle current to put less stress on the switches. Each switch has a LED to indicate when its ON, the Top switch runs the Hot grips and have a 2 color LED, Green on low setting and Red on High.. middle switch is for the PIAA's when on the left side PIAA comes on and shines up the road to the right (so not to blind oncoming drivers) when the high beams are on the right PIAA comes on, this one shines off to the left...
The Third switch operates a electronic fuel valve switching between the front a rear tank..

The GPS III+ (mounted on handle bars) also works good to monitor the bikes electrical system as it has a data field for voltage.. this comes in handy since all accessories on will over power the alternator and start to run down the battery... (I also run a heated jacket)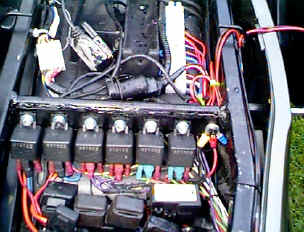 Under the seat you find the 6 relays, a cig lighter adapter and the data cable to the GPS (just in case you want to hook in the laptop or cell phone :)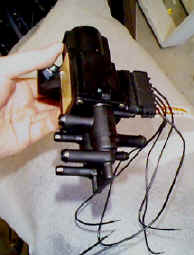 The Fuel valve, this fits nice in the big space under the fuel tank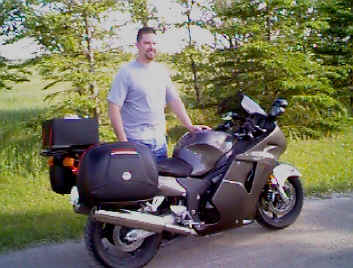 and me with my bike.
Send your questions about these modifications to Scott.
---
More modifications: