Modifications
Dave Hodgkisson, England
Dave modified his '97 Blackbird with Micron racecans and a Dynojet kit. The following text is an extract of a posting he placed on the CBR mailing list (www.katana.com), regarding the Microns.
When I swapped from the ZZR-1100 to the XX I was extremely disappointed with the bottom end and midrange of the stock XX. Top gear roll-on from 2k went like this: Gentle increase in speed; dies (1st dip in power band); gentle surge: dies (2nd dip in power band @ 5k approx); then blast off at 7-8k. The carbs were fluffy just off the throttle stop, and throttle response felt like the link to the carbs was a rubber band. Totally unacceptable.
At this point the DynoJet kit was fitted. Much better. The first dip had gone, leaving the infamous 5k flat spot. The midrange was improved, and the throttle felt more direct. But still not 100% what I was after. So for me, fitting the DynoJet was well worth it. Down side is reduced range, about 145 miles to reserve, compared with 165 before, or 185 on the Zed.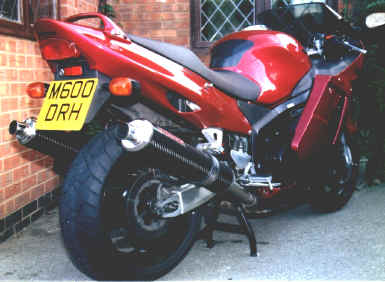 A few weeks ago I splashed out on a pair of Micron carbon slip-ons. Mainly for the looks (if I'm honest) and for some sound rather than the silence. The carbon cans look real cool, complimenting the black frame of the XX, and the sound is now a *muted* deep warble. They are not at all offensively load. At last, I can now play tunes as I filter thro the traffic.
If I was happy with the looks and the sound, I was *delighted* with the transformation in the performance. If I didn't know better, I'd swear I was riding a different bike!!! It pulls from 2k. Top gear roll-ons from 4k are streets ahead of the Zed. At 90 mph (5k) the engine is barely getting into it's stride; it feels so relaxed and laid-back. But twitch the throttle and you get an
instant reminder of just how much power is still in reserve. It now feels like it could pull a few more gears, whereas the stock XX felt like top gear was an overdrive. Drive ablilty out of the corners is greatly improved. To sum up: the engine now has the racers edge missing in the stock XX. Oh, and the top end can now only be described as MANIC!! It has taken me nearly 2 weeks to find the redline again, such is the daunting impression the shear power gives. Unbelievable. I have never before ridden such a powerful motorcycle.
But don't let this put off the tourers amongst you: the paradox is that the improvements in the bottom end and mid range, together with the improved drive ability, make this XX much easier to live with when pootleing. So, fit a set of race pipes.
You can always send Dave an email if you still have questions.
---
More modifications: